What NOT to do when buying a Home
It is very easy to fall into the trap of "Buy, Buy, Buy" when you're in the process of purchasing a new home.
Chances are you're getting rid of a lot of your older items and you want to go ahead and replace them or upgrade to brand new ones.
You know the deal, new home = new kitchen gadgets, dinner & serving ware, furniture, decor, appliances, and the list can go on and on.
We can probably credit social media & HGTV for making us believe we need to have all the things right away, but newsflash - your home is a constant work in progress and your style will change over the years.
A lot of people make the mistake of getting credit cards or maxing out the ones they have to pay for all their super cool and trendy new stuff for their new house.
This is a BIG FAT NO! 🙅‍♀️
Seriously, don't do it!
That's just the tip of the iceberg. See below for other major things to avoid while in the middle of a real estate transaction.
Trust us-
Save everyone involved a major headache, and the possibility of losing out on landing your home and listen to this advice!
Feel free to share this far & wide!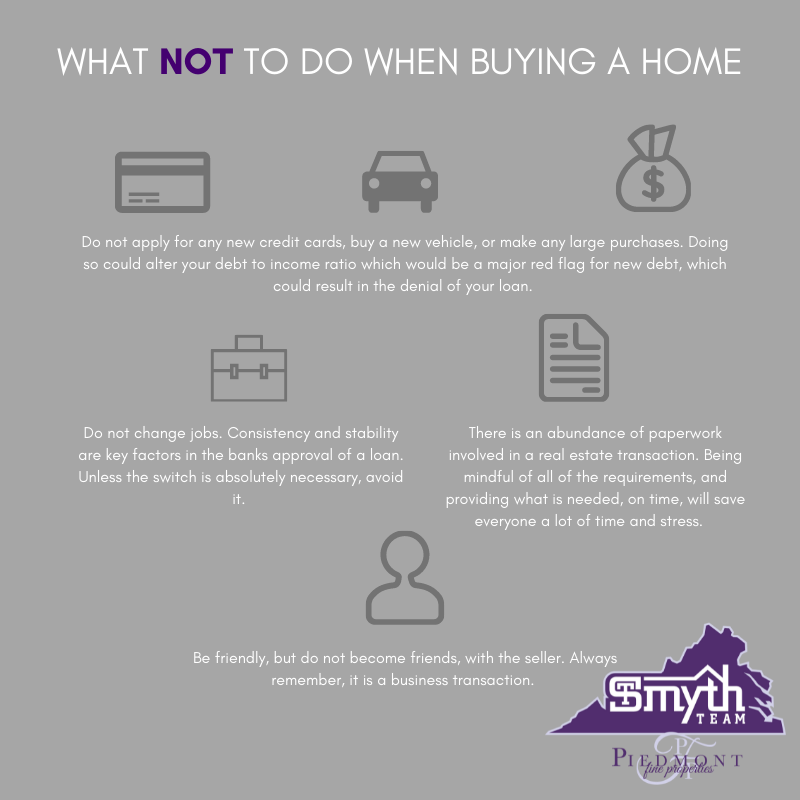 If you're thinking of making some real estate moves, we would love nothing more than to be a part of your journey and play a part in your story. Call 540-717-5144 or email team@smyth.house anytime!